Fraunhofer IBMT in EC-Horizon 2020 - FET Open Project GLADIATOR
GLADIATOR - New technologies for cancer monitoring and therapy: A transdisciplinary, paradigm-shifting, approach with bio-nanodevice interfaces
The Fraunhofer Institute for Biomedical Engineering IBMT is contributing its expertise in the field of medical biotechnology and ultrasound to an EC project to work on the next generation of theranostics for brain pathologies using autonomous externally controllable nanonetworks.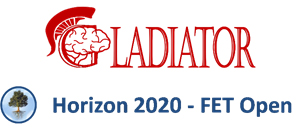 Brain pathologies are highly complex disorders. Despite recent progress, their prognosis is grim, defining a significant societal challenge.
In the EC project GLADIATOR, coordinated by the University of Cyprus and R&D-intensive SME EPOS-Iasis, five academic centres and one SME from across Europe have joined forces with a leading Japan-based University in order to develop a vanguard and comprehensive theranostic (therapeutic + diagnostic) solution for brain malignancies by bridging life sciences, bio-nanotechnology, engineering and information communication technologies (ICT).
The GLADIATOR project strives to provide a working prototype of a complete, autonomous and clinically applicable, nanonetwork-based, theranostic system based on the conceptual framework of Externally Controllable Molecular Communications (ECMC). Using Glioblastoma Multiforme tumours as in vitro and small animal in vivo models, the most detrimental of brain pathologies, as a proof-of-concept case, GLADIATOR implements an innovative theranostic platform of combined cell-based and electronic components.
The concept relies on the externally controlled production of therapeutic exosomes from specifically modified neural cells for the reduction of Glioblastoma Multiforme tumours. The success of this approach is monitored through the exosomes released by the tumour itself in response to the treatment. They in turn trigger the releases of exosomes loaded with fluorescent molecules. For detection of these fluorescent biomarkers and retrieval of corresponding diagnostic information, an autonomous hybrid sensor with ultrasound-based energy supply and passive communication scheme is developed as well.
The Fraunhofer Institute for Biomedical Engineering IBMT with its departments "Stem Cell & cryo Technology" and "Bioprocessing & Bioanalytics" as well as the department "Ultrasound" is involved in the synthesis of allogeneic or patient-specific organoids, the in vitro the proof-of-concept of the approach on complex biological models and in the development of the aforementioned ultrasound-based energy transfer and communication scheme for implantable sensors. During the project, new approaches for the cryopreservation of therapeutic cell constructs, an advanced microfluidic model combining different cellular constructs with the project-specific electronic interfaces and a miniaturised implantable hydrid sensing-reporting device are developed.
Production routines using scalable and automatable technologies by Fraunhofer IBMT – Model system of homogeneous early neural organoids
The Fraunhofer Institute for Biomedical Engineering IBMT developed production routines using scalable and automatable technologies to supply the project partners with homogeneous early neural organoids as model systems. The assessment of morphology, viability and functionality of the organoids showed no disadvantages regarding the biological characteristics when using scalable technologies. In order to simulate the organoid's behavior and development in a more physiological environment with respect to the anticipated in vivo studies, embedding studies using different scaffolds (e. g. alginate-based) were evaluated showing a stable neural fate up to 2 months.
Furthermore, suitable cryopreservation protocols were established to enable long-term stock keeping of the produced neural organoids based on conventional slow rate freezing as well as on innovative vitrification approaches. It was shown that the cryopreservation is generally feasible for the early neural organoids.
A multicellular microfluidic platform was established integrating neural organoids, a stem cell-derived blood-brain barrier model and spheroids derived from Glioblastoma Multiforme cells. The platform provides a specialised environment for the successful co-incubation of the cell types as well as options for treatment and sampling without disruption of the circulation. The integration of specifically designed theranostic antennas produced by the project partners was also realised.
Proof-of-concept for ultrasound-based energy transfer and passive communication
When it comes to the sensor technology, the proof-of-concept for ultrasound-based energy transfer and passive communication was established. For this purpose, an implantable hybrid sensor translating the fluorescence data into the amplitude modulation of the implant´s backscattered signal was successfully developed. After a proof-of-concept in phantom experiments, present work is focusing on the sensor encapsulation in view of a first in vivo use in small animal models.
Project Coordinator

Dr. Constantinos Pitris
Associate Professor
Department of Electrical and Computer Engineering
School of Engineering
University of Cyprus
75 Kallipoleos street
P.O.Box 20537
CY-1678 Nicosia, Cyprus
Tel: +357 22 89229797
E-Mail: cpitris@ucy.ac.cy
Website: http://www.eng.ucy.ac.cy/cpitris/
Scientific Coordinator
Dr. Andreani Odysseos
Director of Research
EPOS-Iasis Research and Development, Ltd
Kosti Palama 34, APT 5
CY-1096 Nicosia, Cyprus
Tel: +357 22 373089
Mob: +357 99 431729
E-Mail: andreani@epos-iasis.com
Website: http://www.epos-iasis.com
Project Partners
University of Cyprus, Cyprus
University of Oulu, Finland
Fraunhofer-Institut für Biomedizinische Technik (Fraunhofer Institute for Biomedical Engineering) IBMT, Germany
Waterford Institute of Technology, Irleand
Norwegian University of Science and Technology, Norway
Osaka University, Japan
EPOS-Iasis, Cyprus
CALL: H2020-FETOPEN-2018-2019-2019-2020-01-01
Funding Scheme: RIA
Grant Number: 8288837
Project Acronym: GLADIATOR
Duration (Months): 48
Project Start/Project End: 01.01.2019 – 31.12.2022
Title: Next-generation theranostics of brain pathologies with autonomous externally controllable nanonetworks: a transdisciplinary approach with bio-nanodevice interfaces
Activity: FETOPEN-RIA-2018